Looking to break into the Chinese market? Here's the lowdown on the biggest social media platforms in China right now.
China is the biggest social media market in the world, with over 926 million social network users in 2020. If you're looking to reach young Chinese, the usual Facebook, Instagram, and Twitter aren't going to help you — not much, anyway.
Because of strong censorship in the country, China has its own set of social platforms. Instead of Facebook, WhatsApp or Twitter, they have Weibo, WeChat and QZone. Even the Chinese version of TikTok — Douyin — is slightly different from its western counterpart.
We've compiled a friendly guide on the top few platforms to ease your entry into China and inform your social media marketing strategy.
Sina Weibo

Sina Weibo is a social microblogging site that's like a cross between Facebook and Twitter. You can follow others, like, share, comment on posts, upload photos or videos, and even start a live broadcast — all within the 2,000 characters limit for every blog post.
There's also a Weibo stories feature, where a 15-second video can be uploaded for 24 hours, much like Instagram or Facebook stories, or Snapchat.
The platform serves three languages: traditional Mandarin, simplified Mandarin, and English, and 550 million Monthly Active Users (MAU) were recorded in July 2020.
Weibo is known for its other features, such as its game centre, Weibo Fit (to monitor your health and exercise), private messaging, trend search function (a large news source for users), and the Weibo wallet.
The Weibo wallet is powered by Alipay, and users can use it to buy any product shared or linked within the app. Just by linking your credit card or Alipay account to your Weibo, you'll be able to use it to pay loans, buy insurance, book a movie, or see an online doctor!
Users can also pay for the the VIP membership to get more cloud storage, customisable options (such as profile templates, badges, and cover image), and SMS alerts.
Interested in marketing your products on Weibo? Weibo has four types of advertising: display ads, search engine promotion, fan headlines, and fan tunnels.
1. Display ads
Weibo's display ads are optimised for mobile and web version. The ads are shown to users based on their searches and the ad's keyword association, which means that it's a more targeted marketing approach. Normally, display ads are placed on Weibo's homepage, newsfeed, and search page (discover section).
2. Search engine promotion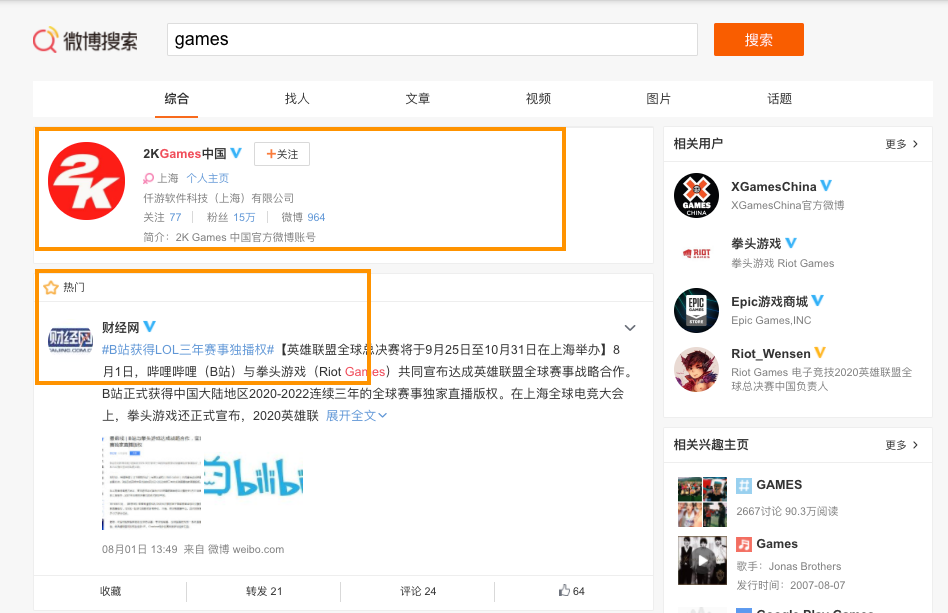 Weibo has an in-built search function that allows ads with targeted keyword searches to reach their audience. It's one of the best way to improve the quality of traffic to your account.
Search results will also yield trending discussions and hot topics, and if your account appears alongside these topics, it'll boost your company's visibility and reputation.
3. Fan headlines
Fan headlines target your company's established fanbase by appearing at the top of followers' newsfeed. This increases the likelihood of followers sharing your content. It will also appear on followers' connections' newsfeed as "推广" (Promoted) or "热门" (hot) posts.
4. Fan tunnels
Just like fan headlines, fan tunnels will make your post or account appear as a headline at the top of a user's newsfeed. However, instead of only appearing on your followers' newsfeed, fan tunnels focus on the entire Weibo community based on your target audience, which is determined by factors such as gender, age, region, and interests. It's useful for reaching new consumers in niche markets.
Tencent QQ & Qzone

Another social networking website, Qzone closely resembles Facebook, allowing people to write blogs and diary entries, upload videos and pictures, and listen to music.
Despite being overtaken by WeChat, Qzone is still widely used. That's mainly because every Tencent QQ user is a Qzone member, which helps boost the number of Qzone subscribers. In July 2020, it saw 517 million MAU. However, the main user demographic is between 10-15 years old, who might not have large spending power.
Tencent QQ, an instant messaging platform and web portal just like WhatsApp or Telegram, saw 694 million MAU in July 2020. Besides messaging, users can play online games, send emails and large files, post stories (like Instagram stories or Snapchat), stream music, and join online communities. QQ has a newsfeed and a dating service too.
QQ and Qzone are popular among celebrities, who use both platforms to communicate with their fanbase. Some workplaces also use QQ for work communication and file transfers.
For marketers seeking to expand their marketing campaigns to QQ or Qzone, there are a few opportunities offered, such as popup ads, banner ads, full screen ads, and app wall ads. These ads are useful for brand promotion, ad promotion, and product promotion.
But it's useful to note that interactive and content-oriented marketing campaigns seem to appeal the most to users.
Brand promotion ads appear on every third page of the QQ homepage, app promotion ads appear every seventh page either in a graphic or video format, and product promotion ads appear after a user watches a video.
WeChat

Source: Statista
The most popular social networking site in China is WeChat. It's a super-app that's composed of several functions, from messaging to blogging and payment. With 1.2 billion MAU in July 2020, it's the fifth most popular platform in the world, and the most popular social platform in China.
WeChat started out as a simple messaging and calling app, like WhatsApp. But it has since morphed into an app for everything.
Like, everything.
Have bills to pay or investments to make? Use WeChat Pay, which offers QR codes, in-app web-based payment, and in-app payment.
Want to book a restaurant, taxi, or even flights? WeChat has got you covered.
You can even send e-red packets to relatives through WeChat Pay. It's that convenient. And that's just the payment function.
You can play games on WeChat, or blog through WeChat moments, which resembles a Newsfeed. Another cool feature is its privacy feature, where only your friends can see your comments and posts. On your friend's post, you can't see what their friends commented – you can only see the comments made by your mutual friends.
If you want to advertise on WeChat, you'll be pleased to find out that there are many advertising opportunities available, many of which are similar to QQ and Qzone — two other channels we'll cover shortly. They are under the same company, after all.
1. Moment ads
WeChat Moments ads resemble a post by a friend, but it comes with a small tag indicating that it's sponsored in the top right corner of the post. Ads will only appear after at least four moment updates from friends. After six hours, if it doesn't garner any engagement with the viewer (such as a like or a comment), it will disappear.
This ad type is the only form of WeChat advertising that supports physical store promotion. You can use images, videos, or card ads as Moments ads.
2. Official Account ads
WeChat official accounts are catered to gain followers, send push notifications, and direct users to a brand website or product. Official accounts will display ads to their followers through banners, such as in-text article banners or video banners.
3. Mini program ads
WeChat has sub-applications, also known as mini programs, which provide additional services to the users. For example, mini games, brand membership accounts, e-commerce sites, and discount pages can be integrated into WeChat as mini-programs.
Pop-ups, banners, and mini game ads are just some of the ways that companies can use mini program ads.
Douban

Then there's Douban, the Chinese version of Reddit. It's a social discussion platform for lifestyle topics, such as books, movies, music, and events. On Douban, users can book tickets, download e-books, participate in forums, and listen to its radio station, douban.fm.
As of June 2020, there are 160 million monthly total visits. However, it has a relatively low user base as compared to the other platforms as users don't need to create an account to access Douban's content.
Furthermore, advertising options are more limited and expensive. But with the relatively recent "Products" section ("豆品"), companies can push their products out to users through a bazaar-style similar to e-commerce sites.
With a focus on uniqueness and individuality rather than price, Douban can be a good platform for niche markets, especially for more sophisticated and culturally oriented products.
Some brands have established "brand stations", where brands host giveaway campaigns and events to promote user-generated content and increase brand visibility.
Source: Douban
Adidas is a good example of a strong brand station. They often hold contests such as the "Superstar" contest for users to share their favourite shoe style and memories of the shoes through a shared template. The winning entry wins a pair of "Superstar" shoes. It's a great way to promote user-generated content and directly engage with your audience.
If your company is in the creative industry, you should consider including Douban into your marketing campaign.
Tencent Video

With YouTube being one of the earliest social networking platforms to be banned, where do China residents go for videos?
It used to be YouKu, but now, Tencent Video takes centre stage.
Tencent Video is the leading video streaming platform in China, boasting up to 112 million premium subscriptions in the first quarter of 2020. In December 2019, it had 900 million average monthly users. It allows users to stream short video clips to dramas and movies. Think of Tencent Video as a combination of Netflix and YouTube.
For marketers looking to venture onto this platform, there are a few advertising opportunities here to try.
1. Splash screen ads
During the app launch, or as a transition page, splash screen ads will appear as a picture or a video, filling up the entire screen. Usually, this is used for brand promotions.
2. Video ads
Before the actual video starts, a short ad will usually play first. Often used for app promotions, this is one of the easiest advertising methods on Tencent Video. Social videos are rather effective in increasing brand awareness, driving traffic, and engaging viewers.
3. Product promotion ads
At the bottom of the playback page, there is a "recommended for you" section, which often features products that are targeted based on a user's searches.
4. In-video ads
When we say "in-video ads", we really mean that the ads are fully integrated into the video. One of the latest changes, Tencent is using AI to seamlessly embed the ad into an object in the video to advertise without interrupting the viewing experience.
For example, if an actor is holding a cup of takeaway coffee with no brand, a branded coffee can replace the original cup. Tencent is currently testing this out on Tencent Video, and if it's successful, this new tech might be used by other video platforms.
This could be our future: seeing product placements and ads that originally didn't exist when the video was made.
Douyin

Of course, we can't forget the original version of TikTok: Douyin.
Released in 2016, it amassed over 100 million users within a year. It has 800 million MAU in July 2020. While it still has similar advertising features as TikTok, there are still some functions that differ.
The live-streaming function in Douyin is more prominent in TikTok, mainly because brands use livestream to market and sell their products.
Douyin also links e-commerce platforms (such as Taobao and Douyin store, its native e-commerce system) to videos. You can click on the e-commerce link inside the video. Alternatively, just wait for the video to loop, and a banner linking to the product will appear.
Chinese Douyin content creators and influencers — also known as Key Opinion Leaders (KOL) — excel in weaving product advertisements into their 1.5 minutes Douyin videos. Often, this is done by creating a fast-paced story.
Content that is unique and entertaining tends to do better. And in some videos, the product is not the focus.
For example, @刘哈哈 (Liu Haha) is known for her creative and engaging stories that sometimes last longer than a single Douyin. Her storyline tends to end up with a product promotion as a solution to a problem a character faces, but since her stories are so amusing, it's relatively well-received.
Ultimately, it boils down to the same adage: storytelling sells.
Xiaohongshu
Xiaohongshu ("Little Red Book") made it to this list because it combines both social media and e-commerce into one platform. It was originally created for users to write product reviews and share their online shopping experiences.
It has 300 million registered users (as of July 2019) and 85 million average MAU (as of June 2019). The products sold on Xiao Hong Shu usually revolve around cosmetics, fashion, and lifestyle. It's therefore not a surprise that its main users are Gen-Z females.
The platform has a huge amount of high-quality, user-generated content in the form of reviews. It also includes a feed similar to Instagram, but tailored to centre around the products. You can search a particular product and view the numerous reviews and product demos posted by other users.
Besides setting up a store account to promote your product through Xiaohongshu, other marketing opportunities exist.
1. Brand account
Companies should set up a brand account to engage with customers. This allows them to create posts, view product reviews, and reply to feedback. Just like any other social media and content marketing strategy, writing relevant posts and including the right hashtag will help boost your brand's visibility.
2. Influencer marketing
Brands on Xiaohongshu can work with influencers (or KOLs). Since the platform depends on reviews and user endorsements, getting influencers to review your product can be very impactful. In fact, Xiaohongshu has an influencer management system that ranks influencers and connects them with brands and marketing agencies.
For example, popular actress and influencer Fan Bing Bing has more than 10 million followers on the platform. Products endorsed by her are often exceedingly successful and sell out.
Fans have even shared products with the tag "冰冰同款", which means "the same product as the one Bing Bing uses". This helps drive more UGC related to the endorsed product, boosting the brand's visibility.
3. Display ads
Xiaohongshu also offers banner and display ads, which can be linked to pages, stores and notes.
Venture into China's market
Learning how to navigate these Chinese social media sites will increase your consumer reach, and can greatly boost your company's visibility. It might take more effort, but considering the sheer size of the Chinese market it'll be worth it.
Let's explore these Chinese social media platforms together! Reach out to our Digital Content Director Erik at [email protected] today.
Read more from Click2View:
Social media looks like the future of marketing. Here's what you need to know.
Influencers are in. Have you explored influencer marketing?
Sign up to our newsletter for a weekly update on the latest content marketing news. Don't forget to subscribe to our YouTube channel too!
Click2View is Southeast Asia's premiere full-service independent B2B content marketing agency servicing clients like Microsoft, Google, Visa, Prudential, and the Lee Kuan Yew School of Public Policy.