South Korea holds the distinction of being one of the only countries in the world desiring to be a leading exporter of popular culture. From the beginnings of Hallyu up to the present day, it seems that the country is well on track to achieve its vision. Will webtoons be their forte too?
Enter webtoons, the shiny new K-phenomenon
Webtoons have shaped up to be the country's next phenomenal export, with Korea's biggest webtoons platform Naver reporting over 82 million users worldwide as of January 2022. Popular webtoons serials even have the honour of being adapted for TV, reflecting their interchangeability with K-drama. Being a webtoonist is apparently one of the top 10 jobs elementary school students in South Korea aspire to.
Naver, the first webtoons platform, was originally founded in 2004. These comics' biggest distinction from 'manga', its Japanese counterpart, is its ease of use online. While manga reads page to page, panel to panel, webtoons were made for consumption on the internet, and people simply scroll down to read through the story.
Clearly, this is the formula for success in the smartphone era, where these stories can be easily read with a variety of intelligent devices. And of course, webtoons are also available for consumption free of charge, unlike most other comics.
Who's the average webtoon reader?
In the US, the demographic of webtoon readers skews to the young (14-24) and female (64%). With 16.5 million daily readers and monthly revenues of over US$100 million, the webtoons phase of the Korean Invasion has well and truly arrived in the US. A major reason for this voluminous readership is that webtoons caters heavily to young women, unlike other comic companies like DC and Marvel.
But why is this medium so popular?
As mentioned above, the rise of smartphones has perfectly complemented the way webtoons are consumed, and this is a major factor in the explosive popularity of the medium. Couple this with the fact that the K-wave is now at high tide and you have a recipe for smashing success.
Talk about K-drama, K-pop, and K-brand excellence in the form of LG, Samsung, Hyundai and you'll realise how they are now a reflection of the country's immense 'soft power', a far cry from its previous association with poor quality goods. Indeed, webtoons can also be seen as another manifestation of the K-wave's worldwide infiltration.
How to market your brand with webtoons
Apart from entertainment purposes, webtoons can be used for marketing. As the audience pool continues to grow, businesses are taking advantage of high readership. For example, here is Tefal advertising its products in a webtoon.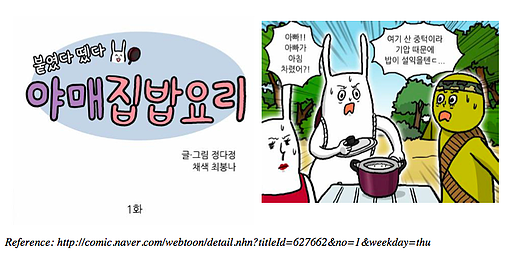 Or the island of Chungcheongnam-do, which launched a tourism campaign with the help of a webtoon: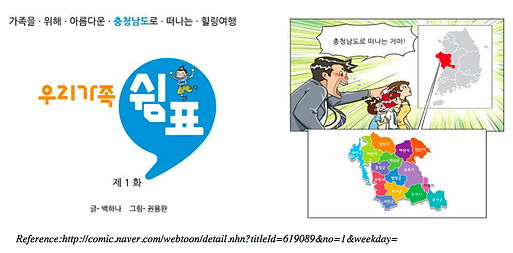 Furthermore, by working with webtoon artists, companies can access the creator's social networks, promoting their products on their blogs. It is estimated that 200 to 500 people visit relatively unpopular webtoon artists' blogs per day, while 2,297 to 7,408 people visit famous webtoon artists' blogs per day.
By knowing your audience, webtoons can be a nifty way to raise awareness of your brand and services.
Some considerations you should have
If you intend to promote your product or service through a webtoon, be sure to bear in mind the audience demographic. For instance, webtoons tend to be mostly read by Gen Zs and millennials and they mostly tend to be of the romance genre as there are a lot more women readers.
In general though, webtoons are perpetuations of Korean culture, and since the number of webtoons readers is growing, choosing webtoons as a means of promoting anything ensures your reach is as wide as it can be.
You need to note what you're associating your brand with though. Displays of South Korean beauty standards and racism can be rife across webtoons. In this sense, webtoons seem to market even the 'undesirable' aspects of Korean culture, and it is arguable that webtoons and their projection of Korean culture onto the world is ultimately a confirmation of how the rest of the world sees the country.
Take for example, Chye-Ling Huang, a Chinese actress who mentioned that the favouring of lighter skin over darker is "colourism" borne out of Asia's colonial history by "structures of power that favour white as the beauty standard", and reflects racism "between Asian cultures."
With racist tropes like "Jungle Asian vs Fancy Asian" rife, it's not a stretch to imagine that your brand could possibly be compromised, and you should work closely with your webtoonist to ensure that these depictions are always contextualised. 
Closing thoughts
Between success and blatant self-insertion, the webtoons industry continues to be one to be milked for its immense reach and its penchant for presenting to the world exactly what they want to see. Marketing your brand through webtoons can be a fun and creative way to image your products or services in a new light, but the association with Korean culture may also serve as a double-edged sword.
Read more from Click2View:
Sign up to our newsletter for a weekly update on the latest content marketing news. Don't forget to subscribe to our YouTube channel too!
Click2View is Southeast Asia's premiere full-service independent B2B content marketing agency servicing clients like Microsoft, Google, Visa, Prudential, and the Lee Kuan Yew School of Public Policy.